Gypsy Queen was a B-24H LIBERATOR which crashed at Church Farm Shipmeadow, a few miles short of Hardwick airfield on Nov. 5, 1944. 3 were killed. It was one of many tragic stories made more poignant for us as it happened at our Wilderley base, at Church farm. Since some of us are pilots, it was especially meaningful...



PA and Wilderley's Event/Project Manager, Kerry Wilmot, has been researching the history behind this extraordinary story. She has uncovered pieces of the aircraft as well as the stories behind its aircrew, some of which, have been deeply touching. Kerry has taken her research one step further by uncovering the stories behind the airmen who were killed and those who survived and because of this, has reconnected many families and re-kindled memories along the way. Wilderley News and Views asked Kerry more about this extraordinary story:

1. How did you discover the story behind the aircrash and why did you want to start putting more of the pieces together?
When joining the team at Church Farm several years ago, Sergei showed me some paperwork which had been handed down with the farm. It was always believed this was the crash that was remembered on at the Barsham and Shipmeadow War Memorial. It was then I discovered the dates and aircraft serial numbers didn't match. Here started the journey of 'unearthing the truth' and ensuring Gypsy Queen and these brave men were remembered. After many long hours of research, we discovered the actual crash site. I have no idea what led me there, but on a wet Saturday we discovered the site - a quarter of a mile off the coordinates on the 1944 police report. We'll never know whether it was my intuition, or someone above led us there, but I instinctively knew where she lay. The crash site is on an area now owned by a local farmer. I was kindly given permission to walk the site after harvest last summer. The ground had been cultivated and turned over. Just walking and using the human eye we were able to find all sorts of 'chaff' which are the parts left behind after the clear-up operation. It is all very special but, for me, the most treasured items are the Air Speed Indicator and De Icer Indicator, along with the parachute clips believed to have belonged to the pilot. Any pieces we have found are now reunited and will be returned to Hardwick when the story of Gypsy Queen is ready to be broadcasted.




2. What personal stories have been uncovered due to your immaculate research?
Endless hours have been spent researching Gypsy Queen and her crews. She flew 30 missions, including the first mission of D Day. Over 127 different air crew members flew with her over these 30 missions. What started out researching the crew of the fateful day has turned into a journey of discovery to try and make a connection between as many of them as I can. There so many stories I am trying to write.
For the fallen three who lost their lives, I have some very special items. Copies of their sign-up papers. I have been sent their hand-written letters home during the war, photographs of them and photographs and details of the medals they were posthumously awarded.
One of her Pilots, Captain Leyland Spencer is still alive, he's 99 and lives in the US. His story is very poignant as he struggles with his memory nowadays. I contacted his son and he asked Captain Spencer if he remembered anything, sadly he didn't. A few days later I received an email, here is a small part of it; It was this email that proved she was called Gypsy Queen as until this moment there was no proof she was named.
Well, I've been going thru a lot of my dad's stuff lately and yesterday I found something interesting. It was a picture, painting actually, that was photographed and sent to my dad in 1997 by George Karnahan with a note pointing out two things in the painting. The painting was captioned "Gypsy Queen", Ser. #295024. The note, attached below at the top left corner of George Kernahan's bombing mission record, reads "#3 engine should have been feathered instead of #2", and "Bombays are open to dump out extra weight — we were getting ready to ditch." I think this is a photo of a painting that George had commissioned to capture "Gypsy Queen" in a difficult situation. But it definitely is the Gypsy Queen that you are looking for. I showed the picture to my dad tonight and he immediately said "Yeah, Man!" When I asked him why he said that he replied that "That's what the YM on the airplane was to us". Anyway, I thought it was interesting that I found this treasure trove shortly after learning about your quest. It was a real shock when I was going thru things and found a picture labelled "Gypsy Queen" shortly after communicating with you. Wonders never cease, or as I like 'to call them, "Tender Mercies". Someone up there cares about this as much as you do!'




Doing this journey unlocked Captain Spencer's memories for a short time, that is so special to me. I have a copy of the painting of Gypsy Queen, it was painted by Patrick Karnahan, the son of George Karnahan who was a tail gunner. Patrick and I regularly communicate, and I have been invited to visit him in the US. I will treasure the painting always and can only hope one day we will find a photograph of her.
Her crew on her final mission was made up of 3 replacement crew members due to sickness. The Co Pilot was one of those replacements and sadly he paid the ultimate price of war. All their stories are special, and, one day, I will find a way to write them all.


3. What have you discovered about yourself along the way?
There are times I have had to put this down as it is too emotional to handle. What started as an internet search has turned into a passion that has driven this into a full-blown project. A couple of friends have helped this along, and to have their support and interest is wonderful. To share this with someone who has a like-minded passion makes it a journey of discovery not just for Gypsy Queen and her crews, but about my life too. Am I finding 'me'? Life is short, respect always what those who have walked the paths before us gave for our freedom today. Our lives change as we get older, things I thought were important really aren't. Find your soulmate to share your journey in life. Tomorrow is never promised; Live, love, laugh and cry with someone who 'gets' you and supports all you do, and always be grateful for those who gave the ultimate sacrifice.


4. Tell us a little about the family members and which story stands out from the others?
Every time I came to a dead end on a pathway of a crewmember within 24 hours a door opened. To find the families of the crew who were on the final mission has been incredible, it's all been incredible. I am direct contact with the families of 3 crew who lost their lives; 1st LT Leo Baumann – Pilot, 2nd LT Eddie Dunne – Co Pilot and Staff Sargeant Leo Henry – Tail Gunner. Their stories are so involved it is hard to snippet them here. Details of the crash are documented in an amazing book called Ted's Travelling Circus, the story of the 93rd Bombardment Group, It tells how the last out crew member who came out alive 'Bombardier Marshall Minister' parachuted out at 400ft, and his chute caught on a tree. It is documented he was taken to the farmhouse, the farm house here at Church Farm, and the folk 'were gracious and poured tea' 76yrs later I was able to call the family and send them videos and photographs of the farmhouse. That to me is incredible! It is one of the few positive influences of social media as without it I would never have found them.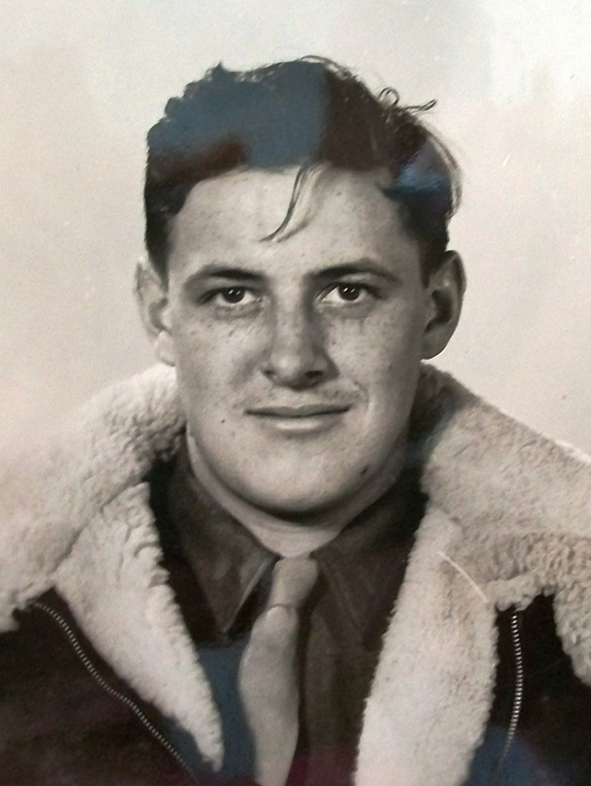 5. Where are you going from here? A book, documentary, memorial… etc?
A friend has helped me design a memorial stone for the War Memorial in the village, I now just need to raise the funds for it! But the story has only just begun. I really do wish to write each crew members story, to build a webpage for the families to follow and to encapsulate their memories forever so they are now remembered. A documentary, well that would be incredible. Most importantly, every time I drive past Madingley American Cemetery in Cambridgeshire I pop in to see Leo. Eddie and Leo, 'The Boyz' as I affectionately call them. I take them flowers on their birthdays and wreaths at Christmas and on the Anniversary of the crash. They will never be forgotten. Most of all I would love a memorial at the farm, something special that fits with all that we love and treasure at Wilderley, maybe encompassing some of the parts we have found.